Word count: 15,924 Reading Level: College Grad Reading time: 57.55 Mins
[Update 03-March-2021] – Add Amazon Author backlink
[Last Update:2-Aug-2018] Now with more Whitehat, Blackhat strategy and infused hops
[Update 02-July-2018] – Just noticed we still have page one rankings for this article under 'best backlinking guide 2018' , 'backlinking guide Australia', 'australian backlinking guide' beating out some of the Guru's of SEO. Interesting our video is ranking top 1-5 consistently even though it is essentially of little value except as clickbait to the gateway to the article. How we rank our videos is inspired by Holly Stark with some of our own flavours. In both instances we have used backlinking (surprise 😉 ) , onpage and what is probably best termed as Click Through Rate conditioning.
40 Solid Ways How To Create Backlinks
1.To create backlinks effective you need to measure your search ranking accurately
2.Laying a great foundation before you create your backlinks
3.Hunt down technical website errors before you link to remove obstacles
4.Ensure website architecture is seamless
5.Produce frequent fresh content and updates
6.Ensure high relevance to search terms and always produce high-quality content
7.Start Hunting for quality backlinking opportunities
8.Aim to create Dofollow over Nofollow backlinks
9.Tag and share images and infographics to create backlinks
10.Natural backlink creation should be preferred over other types
11.Paid backlinkings can prop up your ranking and backlink portfolio
12.Use Social Media as a source for creating backlinks
13.Cautious use of backlinks from Review sites is advised
14.The hardest to earn, but well worth the effort.Edu and.Gov backlinks are gold
15.External and internal links to Case studies are very powerful
16.Genuine Backlinks from blogs are best
17.Using Private Blog Network (PBN) can be highly effective, but risky
18.You need to watch out for negative backlinks
19.Make sure you measure your backlinking placement opportunity vs Investment
20.Always identify the link types that are the most beneficial with respect to your business
21.Always build the easiest backlinks first
22.Avoid using Subdomains and linking from them
23.Piggybacking off links from other your other relevant existing websites
24.Use Youtube for branding optimising to build backlinks
25.Sign up for business citations and quality relevant directories
26.Ask for niche specific guest post opportunities
27.Build backlinks from your social media profile/s
28.Building links from broken domains and links
29.Post and engage in niche relevant forums and blog comment Sections for backlinks
30.Building backlinks via testimonials and reviews
31.Earn backlinks by submitting to blogs and RSS directories
32.Earn backlinks to your website using infographics
33.Link building by email outreach
34.Conduct interviews for content and link sharing of the content
35.Create link bait posts for high volume sharing and authority earning
36.How to Create Google Stacks and do they work
37.Ranking PDFs
38.Charity / Donation Backlinks
39.Using the Magic of Quora Answers
40.Reddit and other forum tricks
41.Amazon Author Backlink

What follows is a very detailed guide covering; The different types of backlinks and how best to create backs to improve search engine optimising for your website.

Search engines, such as; Google, Google Mobile, Bing and Yahoo have been tightening their policies around Search Engine Optimisation marketing techniques to game a website's rankings. As a result, some old-school tricks now can produce very negative results and what was average, but effective can also affect your rankings negatively.

One universally website ranking factor is backlinks. MOZ and many others, including mebsites.com have tested and found backlinks and the creation of backlinks to be one of the most effective means to improve your website's search ranking.

Factors affecting the effectiveness of backlinks in search engines are the quality and source of the backlink, such as; Domain quality (Domain authority) of the website you are linked to, the keyword anchor used, Whether they are following or no follow links, the number of the backlinks and ultimately the amount of traffic coming from those backlinks in relation to other rankings in Google. We believe backlinking is still one of the strongest factors for improving rank that can be manipulated by a search engine optimisation specialist. It is also a bit of a forgotten or rarely practiced art by most SEO companies.

Back in ye Olde times on the internets, link sharing between friendly webmasters was all the rage and somewhat effective. In the search engine algorithms of 2017, the ye olde link share in the footer is seldom effective and 100% negatively perceived practice by good SEO professionals. Additionally, visually it is very spammy from a users point of view. Therefore, when we refer to creating or adding backlinks we are not referring to this dated practice or anything similar to this nudge wink wink practice.

Image: Monty Python, Nudge nudge wink wink sketch

These days SEO professionals need to build or better still earn quality backlinks to the target website and quality really does count more than ever before, since the addition of Googles new penguin 4.0 Algorithm. Since it is better to earn than to manipulate for a backlink, it becomes more important to 10x all your content. By 10x we refer to a term used by Rand Fishkin, from MOZ. Rand says and we agree, it is not enough to just publish good content. It is also not good enough to publish great content. Rand states you need to publish content that is substantially better than anything else out there and he does a great job of explaining why so I will let you watch his video to learn why. For continuity of reading I'll say most websites great content will come via informational; Webpages, images, blogs, videos and whitepapers. I will also add while it is good to have beautiful web pages the value on the page is the actual content on it. A pretty page might hold someone's attention for a few seconds, but great content will hold their attention for minutes or even hours and that is what you want.

Note: Before you freak out about creating Great or 10x content, understand it is still a relative term in this context. Because your content greatness requirement is measured from the top performers in the search ranking hierarchy now. You don't need to create a literary or Oscar-winning piece of content. It just should be much better than others in your space.

So step one should always be to create and have great content first. However, just keep in mind if you are a small business, I do also suggest just doing it first to get in the habit, even if the first pieces of content are shockers (you can always take them down later). Subsequently, you should look to improve each piece of content you create. At mebsites.com we strive to always produce a better than last piece content each time we publish.

The key is to attract others to link to your website because the content is great and relevant. Opposed to requesting them for a straight-out link share (which we already said sux). Furthermore, even if you use some of the whitehat SEO tricks or even blackhat it will be for nothing if the world's greatest backlink takes users to irrelevant or poor content and they bounce. Objectively, you are just fooling yourself and will actually do yourself a disservice. Google is measuring user time on page and engagement so even if you get the ranking with poor content you will struggle to keep it.

There are several critical aspects to be considered when trying to procure quality backlinks to your website to improve its search rank in relation to relevant/trending search terms.

So step one, is create great content on your web pages. Spend the time that you likely didn't when your site was made to do it right. Step two, before you jump in and shotgun some backlinks is to make sure you can measure where you are ranking currently and be set up to accurately measure your improvements. Let me make this clear searching for your own website in Google is not an accurate form of measuring your ranking! Neither is searching for it on your mate's computer. There are tracking and relevance variables, which affect the rankings uniquely for each user, depending on previous searches, time of day and trends e.g. Google etc spies on you and then manipulates results to be the most personal relevant result for you. You need proper big kid software to create a baseline of where you are at and the improvements you are making. If possible it is a great idea to include your competitors in your measurements.

1) To create backlinks effective you need to measure your search ranking accurately.
1) Some form of user analytics. Google Analytics is fine and free and just needs a small tracking code or code snippet added to your web pages to work.
2) Register with Google search console, Bing webmaster tools
3) Quality SEO tracking software; I recommend serpfox and ranktrackerpro for keyword tracking as they are nice and light weight and relatively cheap!. For agency analytics for clients, I prefer to provide a hand made report. I just don't really see anything I like in the market. However notable mentions are: SEOprofiler, agency analytics and Cora. For drilling down and analysising we link cora and love love pageoptimiser.pro, which isn't a backlinking tool, but it is just so useful for optimising pages your backlinking from I think it is a must tool. Backlink analysis tools such as, ahrefs, semrush and majestic are worth mentioning. However, on a day to day basis serpworx is our go to tool and probably one of our most used and liked tools.
Let us get into the nuts and bolts of backlinking
2) Laying a great foundation before you create your backlinks
Just like a grand building, strong website rankings are created with a good foundation. A good foundation of quality backlinks from multiple sources.
Generally, having a bulk load of mediocre backlinks to your site doesn't do the job anymore, this did still work a couple of years ago until domain quality and relevance became factors (Note: If your competition is very weak it will still work). With other websites and blogs vying for top ranking on SERP's, Google has started measuring more than 200+ signals to determine the quality and the relevance of your backlink before it will rank it. So your website must be technically sound, such as; Mobile friendly, tag correctly, readable, suitable performance and the meta details accurate to the content held within. Furthermore once ranked, Google will continue to monitor the backlink for relevance/quality for various search terms. For example if you temporarily rank highly for the search term 'bag sales', but the bounce rate for your page is very high above 70% your ranking for that search term will very quickly fade (refer What is Penguin 4.0). This is why it is imperative to put most of your time and effort to develop a technically optimised website with sound content to start with. Setting the foundation for building a top-notch backlink profile is all about the factors listed below:
A technically optimised website
Impeccable website architecture
High content relevance to search terms
Frequent, fresh content updates
3) Hunt down technical website errors before you link to remove obstacles:
A website with technical errors can easily earn a place in the bad books of the visitors and search engines alike. Once the search engine picks up technical errors within the website, it minimises the organic traffic to it. This is why it is highly recommended to have a detailed plan prior to developing a website, rather than winging the whole process. Invest ample amounts of time and effort in the development of your website, hiring a web developer who has a good understanding of SEO can be a good investment, half-assing it will only come back to haunt you later. There are no free lunches on the internets, often that cheap website template and website hosting will cost you in ranking and traffic a 100 fold more than doing it right would have cost. Here is a checklist of major technical errors that you should keep an eye out for when developing a website.
Ensure proper use of 301 and 302 redirects and use optimised 404 pages to encourage user retention
Check for HTML and XML sitemaps; ensure that these sitemaps compensate for any poor site architecture
Encrypt the site traffic with an SSL certificate and it is a must the site has a payment gateway.
Check for errors in Google Search Console and your SEO tracking software.
Enable server compression transfer and browser caching. Consider a CDN service like cloudflare.com to help with server load at peak times and serving to a wider audience.
Optimise all images via lossless compression technique (we love Kraken.io for this)
Use a reliable and fast hosting service, physically local to your market is best to reduce ping.
You must use a responsive frontend framework for your website. Otherwise, you will fail Googles mobile responsiveness test and loose substantial rank.
Install web analytics like Google Analytics or Mixed Panel and ensure the integration of tracking code on all the pages (in case of GA)
Ensure proper use of "Rel canonical" tags
Register the canonical variant of the site in Google/BING webmaster Search Console
4) Ensure website architecture is seamless:
A website with seamless architecture can bolster conversions even if there are only a handful of quality backlinks pointing back to it. Good website architecture encourages and enables Google to understand and present your site in the most efficient manner (it's all about speed). Usually, Google rewards sites with seamless architecture with better rankings. The following factors are critical to ensuring ideal site architecture for your website.
A sensible easy-to-navigate menu structure (two-three clicks to the destination is best).
Ensure menus are mobile friendly.
Ensure the architecture is up to date with current standards.
Ensure an optimum amount of navigational links, including on page.
Logical subfolder system design (web devs use best practice don't just make up your own folder system).
Link the logo back to the homepage.
Ensure an HTML or XML sitemap.
Make the navigational links descriptive of what they link to.
Note: We believe there is a bias to HTML based pages. Technically this should not matter. However, time and time again we see drag and drop style website builders rank lower than they technically should or against their HTML competitors. Platforms such as; Magento and WordPress have native and/or plugins to optimise for this.
5) Produce frequent fresh content and updates:
Note how many times we update our content keeping it fresh and noting when we did. If your content is relevant or works anymore remove it. No one wants to read how I/you use to do the equivalent of stuff Britney Spears into footers a thousand times.
A website which is hardly ever updated is like a stall cold cup of coffee and will give Google little reason to revisit and potentially boost its rankings compared to competitors who always have their content served hot, fresh and regular. On the contrary, a website which is frequently updated will be picked up by Google, in turn, Google will frequent the website more often allowing your content to be indexed quicker and more accurately compared to others. Consequently, creating regular fresh and informative content will see Google index that page and related backlinks much quicker. Your content can quickly turn into a hub of information frequently visited by users, further improving your rankings. The net effect is quicker indexing of new content pages, which are then ranked and rechecked more often against your backlinks and other search ranking factors.
6) Ensure high relevance to search terms and always produce high-quality content
The best rule to follow when creating content is to be substantially better than what is currently ranking, as we explained before. For most industries, there is likely content ranked already. Make sure you check for any existing content and you also check for any relevant search trends using tools, such as; Google trends or buzzsumo. Additionally, check your research against whether users are searching in enough volume to warrant the expense of creating the content. Then create a substantially better piece of content for your website.
You can combine this research along with any backlinking opportunities that may be highlighted in your SEO monitoring software. SEO profiler and ahrefs is a great resource for this information.
Note: If you are going to outsource bloggers before you post their content, plagiarism test it and actually read it to make sure it is good. Many outsource bloggers are actually just using online tools to scramble other people's blogs. What you end up with is garbage for your home site. It might be ok for some crappy attempt at white hat tactics, but it will put off genuine customers.
7) Start Hunting for quality backlinking opportunities
Once you have laid the foundation, you need to fully understand the anatomy of a backlink before you can master creating them.
What are backlinks
Different types of backlinks
How to spot a good backlinking opportunity
How to identify the link types that are the most beneficial with respect to your business
What are backlinks
Backlinks are links (hyperlink in old school speak) that point to your website address from other websites or web apps web address. A backlink to your website on any 'third party' website serves different purposes for user and website owner:
For users:
A source or reference for content
A link recommendation from another user
For website owners/backlink creators
To bring in targeted traffic from a specific audience
To bring in trust flow or link juice
Note: What is link juice? It is a colloquial term that refers to the equity passed to a site via links from external or internal sources. This equity is interpreted as a recommendation for your site. The equity can be negative or positive based on the status of the referring site and this is where you can be hurt if the referring site is a spammy source according to Googles metrics.
Both of these aspects are really critical to boosting conversions, which is the ultimate goal of any backlink builder. While backlinks seem to be a godsend for webmasters, it is also essential to be aware of the fact that creating backlinks in bulk or creating backlinks via spammy practices can easily have an adverse effect on your website. Best practice we believe is don't build what you can't undo. Even what would be classed as best practice today doesn't mean it will remain so Google is a fickle beast.
Different types of backlinks:
Backlinks are categorised into different types. Some of the major backlink types are listed below:
8) Aim to create Dofollow over Nofollow backlinks:
Dofollow (follow) and Nofollow links are the cornerstones of any type of backlinking strategy. Irrespective of the type of backlink (listed below) that you procure, it will be either a Nofollow or follow.
The Nofollow tag was introduced by Google in 2005 with the intention of reducing spammy or blackhat backlinking practices. Search engine criteria say any link that is tagged with the Nofollow attribute is deemed invisible to Google. Taken literally, neither any trust flow nor any link juice is transferred via such links. However, Nofollow links are not entirely useless; these links can easily play a vital role in bringing in customers and encouraging conversions. After all, links also serve as a practical reference to users e.g. they will click on the link if it seems useful, which will earn you site visit.
[Update 01-May-2018] – After a lot of testing we can say nofollow links do pass juice really well. Infact I have been reluctant to post it as we have been having a great run getting cheap guest posts because they are nofollow and further boosting them. Some results have been amazing, one link has sent a page from nowhere to top 5 in medium competition niches.
Dofollow (follow) links pass link juice to boost the page rank of the website to which the link is directed to. Procuring follow links using outdated techniques are really hard these days because most webmasters have automated systems or rules to automatically tag Nofollow attributes to links in comment sections and forums. That is why follow links are best earned on merit rather than trickery. This is excluding blogger outreach and PBNs.
9) Tag and share images and infographics to create backlinks:
[Updated 22/June/2017] Image backlinks are the path or links back to images on your website. These backlinks are easy to build and with image search use being so strong currently, they can be an effective vector for your website. Furthermore, they can rank and bring traffic all on their own.
When correctly named and tagged images can be more compelling than text when it comes to convincing the users to take an action. An image can motivate a user to click through to your page just as much or more than a couple lines of text to a search page. Additionally, competition for the image rank is not that fierce regarding trying to build image backlinks when compared to the task of building text backlinks. [Update Jan/2018 – It is possible to over optimise on image tags, GEO tags and meta. Try to stay within the lowest and highest metric of the top rankers.]
For example, brands that feature fashionable or trending products like apparel, footwear, tech etc can be really successful with procuring and creating image backlinks. Pinterest, Imgur and Instagram are an incredible source that can help you to create image backlinks with ease. Both Pinterest and Instagram are also mediums with a proven track record of selling for their content posters.
For a small amount of effort to descriptively name and brand your images, with logo, website url, price or click bait text before uploading them and perhaps applying a branded watermark and then sharing the links, you can see wonderful results. Additionally, embedding your images in web2.0 sites or other will improve your images keyword ranking.
How effective can image ranking be? Imagine a user searches for bug control and sees a whole bunch of images at the top of the search results with your brand and something compelling written on them. Do you think that will give your company an edge? You bet it does. Furthermore, one of the coolest image rank technics I have seen is stealing the rich snippet image for another website's rank. If you brand the image with your URL it basically gives the impression the snippet is yours (note: this might not be good if users will click through to the other businesses website thinking it's your product). This can also be a very useful technique for reputation management jobs.
Other types of images to get linked are; Inspirational images which are very popular on social media, but offer fleeting real value to users. They can give you some good social signals. Infographics, however, can have solid long-term value. They are popular to share on social media and create nicely indexable links from social media sites like Pinterest, Instagram and specialty infographic websites. Ensure you name your image descriptively with url. Recently I have had a lot of outreach enquiry from infographic designers offering their work to supplement a blog post for a backlink it appeared to me an attractive idea for the cost of a mare link.
How to rank images?
Recent, research experiments from Matt at Diggity Marketing (M.Diggity, 2017) states they have had a lot of success, including stealing rich snippet images with the following techniques;

1) Optimised Alt Text – You need to have a full match or partial keyword match for what you want to rank for. Semantic matches don't seem to work as well from our experiments.
2) Topical Content relevance – The content on the page and the website topic you place your image on the need to match. For example, an image for 'best builder' would need to be on websites about building (Note: This could have implications for images hot linked as a means of negative SEO).
3) Website Authority – This is so often the case you'll need to have your images on sites with a matching authority or better to steal away a ranking. This is especially the case if you want to take a rich snippet image for your own.
Screenshot of Rich Snippit Image Steal
Infographics are awesome to share on social media
Note: You can stop users from linking directly to your images from their websites, sometimes this is referred to as a hotlink. However, a better thing to do would be to give users a specific link for sharing, if it's going to cause resource issues or just don't allow it.
10) Natural backlinks creation should be prefer over other types: Cough Cough🦖
Natural backlinks are the links that look authoritative and enhance a users experience. For instance, an article with a reference or link back to another article which was used as a source of valuable information. Such backlinks can be deemed as natural links. Natural links, in no way, look stuffed/spammy and are a welcome compliment to the host article or post, while sometimes carrying a natural anchor text or naked link. If you create really good content someone may pay you the same professional courteous we do by sighting you or your work in the article or link you in a bibliography in the footer.
Note: Anchor text is the clickable text in a hyperlink. SEO best practices dictate that anchor text is relevant to the page you're linking to, rather than generic text. Not to be confused with the system gaming blackhats do with PBNs etc
11) Paid backlinkings can prop up your ranking and backlink portfolio:
Note: We aren't specifically referring to PBNs, press releases, high end PR posts here.

Paid backlinks are links to your site that you can purchase for a temporary or permanent period. These backlinks used to be really effective in the past. However, Google has worked its ranking algorithm around such paid backlinks in the last couple of months ([Update Jan-2018] – We aren't saying they don't work because clearly they do. However, poor paid backlinks which are essentially high DA orphans offer little value in all but low competition niches). Therefore, Google can now identify (some/more) paid links and minimise organic traffic to the pages that host them. Google also has clear views pertinent to judging whether a backlink is clearly paid or compensated for via some other method rather than money transfer, such as link sharing. You can learn more about Matt Cutts view of how Google evaluates paid links here.

The ramifications for the usefulness, in SEO terms, of paid services such as; Yellowpages, true local, yelp, word-of-mouth etc is somewhat questionable. Especially, when most have Nofollow tags on the links back to your website. After all when was the last time you heard someone say I will look for that service in the Yellowpages… 10+ years ago?
12) Use Social Media as a source for creating backlinks:
Social Signals
Social media backlinks are easy to achieve but difficult to stand out. With such huge volumes of posts loaded on any social media site in a given minute makes it really hard to stand out with social media backlinks. This is a further reason why trending, valuable, quality and fresh content plays a vital role. If you plan your content with these factors in mind while applying lots of the Sweat + Creativity factor, you are bound to gain some natural backlinks in addition to the surplus amount of shares and social traffic from your social media platforms. Bare in mind engagement is an important factor on social platforms algorithms and also how search engines rank your site and posts. Posts with high engagement get shown more on social media channels and rank higher in Google. The net effect is more traffic and a better backlink.
([Update Jan-2018] – Social embed stacking – We have been running a lot of experiments with posting links, video, maps, mymaps content to social media platforms then embedding it in web2.0, websites, pages, PBNs to create relevance and crosslinking. We are happy to report this seems to be quite benefical. We find that it helps: web2.0 to get index and stay indexed more, improves relevance to the onpage data even when its just nonsense with only signals, drives some cross traffic, Google plus is instant death for anything shared, twitter is best and Facebook is a distant second.
13) Cautious use of backlinks from Review sites is advised:
This is where things can get serious. While all the other backlinks might play a critical role in boosting your sites traffic or position in SERPs. Review backlinks outline your services or product on offer and highlight any respective pros and cons, which can influence a potential customer to make a decision. Therefore, review sites and review backlinks can literally have a stronger role at the source with the user, than the actual backlink value in the respective search engine in regards to encouraging conversions. As per a survey conducted in New York (E Vreeland,2017)(Mebsites.com, 2016), more than 90% of people who purchase goods online or who plan to visit a restaurant resort to review websites to make the final decision.
Also worth noting that for Googles Local business listings, Google is adding the review statistics from facebook and major review sites automatically. So reputation management will also need to part of your backlinking processes. Fair or not a lot of negative reviews can put customers off. We will be posting a link to our reputation management guide here. Our suggestion is if the review site does not have good support do not use it.
14) The hardest to earn, but well worth the effort .Edu and.Gov backlinks are gold:
Edu and Gov backlinks are considered the king of 'natural backlinks' by most SEO professionals. Even though we have SEO experts who think otherwise, backlinks from trusted websites have a high value in your total profile. They can play a significant role when competing against another business. Domain names ending in .Edu and .Gov providing backlinks are really difficult to procure for businesses other than the ones offering voluntary works or non-profit organisation. Edu and Gov backlinks can also vouch for your reputation of your website and hence even if you might not get many direct conversions from such backlinks, they play a strong role in convincing Google (and clients a like) to list your website for relevant queries. If you find an opportunity to create some go for it.
([Update August-2017] – Not a fan of buying the .edu links off budget sellers. We have seen a few sites get spam penalties and we would say its most likely because there was zero relevance to them having a link. No one is buying the 10x scholarship links for $100 by the local lawn mowing company. Sorry Jims Mowing hehe
15) External and internal links to Case studies are very powerful
I love creating case study backlinks / Internal Links. Not only does it provide a credible source of success, but they are just damn good high converting content machines. Case studies are like testimonials on steroids. For just about any business I would recommend spending the time to create a couple case studies. Make sure to include the following;
⚫Before and after images or data
⚫Objectives
⚫Plan
⚫Results
Depending on your target market you may want to keep it brief or virtually produce a whitepaper on it. Paying for it to be professional written can be a great decision as very Likely whoever wrote it may backlink to you and you may be able to submit it to relevant other websites, for example; suppliers, Industry associations, Tech institutes, review websites. It can be a solid way to earn a real backlink that while pass traffic.
16) Genuine Backlinks from blogs are best
Similar to the case studies, genuine references and anchored links from relevant blogs with high authority are gold. Not only is your business being exposed to another relevant demographic, but you also will get some great link juice. The trick is how to get someone to write about you?

Ask! If you don't ask you can guarantee you won't get anything. A good place to start is with suppliers and other industry people you may know.

Example:
Hey, supplier, we have been good customers for years now.

Supplier: Sure are, we are very grateful.

You: I notice you have a blog, how do you get topics to write about?

Supplier: Just whateves', we actually struggle a little.

You: Well I have a great customer success story about one of your products. How about we collaborate a little and you profile us a little and we tell the story of this customer. We can share it on our successful social platforms and you could too?

Supplier: hmm sounds O for awesome

You: Damn I'll even write it for you…lol (try to have them write it, but whatever will get the job done).

Option 2:

Write a great blog then send it to different blog writers offering to let them have it for free long as they retain your link. I get asked to do this all the time and once in a while if I a short on content/time and it really is good I will guest spot the blog.

Note: Google representatives are making noises that paid blogs post backlinks are a negative and they claim to be able to detect the spammy; Forbes, Inc, HuffPost type posts and discount them. Something to consider before paying big dollars for a post. Google is also notorious for talking crap.

[Update 1-AUG-2018]

Option 3:

Use a blogger outreach service who will find willing bloggers for you. There are lots of exceptions, but if we take website average such as a builder, lawn mower or similar I would have to say the quality of blogger available is low in general and If we do it we normally give the post a little love to help it rank and some social sharing. It also would be more about completing a profile not ranking a site. Therefore, generally your post will be an orphan so don't pay unless they can show you traffic relevant to your niche. It's not the best thing to compare blogger outreach to a PBN, but if your client is going to rank or go bust. You might want to compare the ROI and need for what often is a vanity post with no audience.
17) Using Private Blog Network (PBN) can be highly effective, but risky:
I'll qualify risky first. Basically, any Search Engine Strategy has a risk, even the squeaky clean whitehat methods. Therefore, before ever doing SEO work you need to do the mental calculation of, what is the upside of what I am doing and is it worth the potential downside of being caught and what are the ramifications of it. For example, if you are the head of marketing for K-Mart, is creating a private blog network for the latest product XYZ worth getting caught and penalised for…ah nope! If you are setting up a new product or service and you just want to sell short-term and can afford to lose it, maybe it is. Like wise, if the client is on the verge of going bankrupt maybe you need to park that whitehat in the wardrobe for a bit and get the man some F*&$ed PBN links.
Private blog networks are not a whitehat SEO tactic. At best they are a greyhat SEO and at the extreme, they are pure blackhat SEO. The basic strategy is to create a pseudo-organic network of blogs/websites with the least amount of effort to boost a target sites ranking. Some of these PBN networks can be 10,000 websites/domains strong even millions. I won't go into great detail as PBNs are financially and technically out of range for most of my readers.
A brief outline of PBNs: High quality expired/bought domains are acquired from domain auctions or from normal domain sellers from potentially $1 USD to thousands. The domains are then used as a source or target. For a source website, the SEO Pro then creates a website or blog. Depending on the target or goal the PBN creator will either do minimal content work or the least possible to create a credible source/referring website. The amount of effort they put into the source sites really depends on how much they paid for the domain, who or what the target is, how long do they care the source will last, whether it is a tier one, two, three or web2.0 referring site and whether they want it to be able to pass a real visual google audit.
Note: Tier one is a higher quality referring site and the higher the tier, typically the more spammy it will get.
Once the source website/s are created the SEO pro will create content, with measured anchor text and backlink to the target website. Then they rinse and repeat as needed. The investment can be huge so PBNs are not really within the reach or interest of many companies looking to improve their SEO. Therefore, PBN services are often sold or are part of a clever (normally highly successful) SEO pro's bag of tricks.
Why do blackhat SEOs go to the effort of doing this 'BECAUSE IT WORKS LIKE CRAZY!'. To put this in perspective, some blackhats are so good at creating PBNs they have skipped having clients and just target their own websites, which are normally affiliate farms, selling Amazon products (or similar) on commission for example. Rank and rent is also very popular now.
If you don't know this already backlinks are still king of SEO nothing else beats it consistently. Yes you can go viral and play with click through rates, but that is more of a unicorn event for the average website, unless you are Tai Lopez. This is also why a lot of SEO companies and so-called experts actually suck. They don't understand backlinking beyond the statement you need to be getting them. Moving around content with a splash of keywords on your pages will only get you so far and if someone starts talking about keywords in your meta="keywords", just run.
18) You need to watch out for negative backlinks:
[Update 28-Juy-2018] – Have been testing this for a while and it would seem that using the disvow will hurt you a lot short term if you don't have a penalty. So what to do if you have been hit with forty thousand viagra GSA links? Best course of action seems to be nothing. It seems good old hummingbird will simply ignore the links in a shorter time period than disavowing them will. There are differing opinions so I have left the whole section as it is.
Just as good backlinks do good things weak or downright bad backlinks can kill your website. You need to be on constant lookout for unfavourable backlinks.
Negative backlinks can range from the not relevant to the spammy questionable origin, Viagra or Adult site backlink. Part of your SEO strategy should be to monitor and disvow these links as soon as possible.
Where do Negative backlinks come from?
Normally, they are either good links gone bad or a black hat SEO pro trying to piggyback some link juice off your domain. However, they can also be from that cheap SEO company you thought was great, that Fiverr gig to boost your rankings (oops) or even an attack from a competitor. Either way, use the method to remove them as quickly as possible.
Note: Good Quality SEO tools will monitor and pick this stuff up for you. Our favourites are Ahrefs, SEO profiler. Again they aren't really affordable for small business so best to ensure your SEO person has enough scale to afford them.
Negative backlinks as an attack:
This is a shitty practice. However, business is ruthless and passive-aggressive revenge exists. The idea behind it is to hurt the rank of the target by spamming them and bringing down the targets overall backlink profile.
So instead of relevance, they link you to the opposite, though the go-to is normally spammy affiliate adult site links and Viagra. Some blackhats even have PBNs just for this purpose. A sustained all angles attack a business, especially a small business would surely not end well. However, this is highly illegal and would most likely lead to exposing the perpetrator. The more common attack is the just enough approach by would-be competitors. They create or hire someone to create just enough negative backlinks to hurt the target then stop. An attacker could more effectively over optimise the backlink anchor text profile.
This has two effects on the target; Their ranking will drop and they consume resources/time to combat the effect.
Do not do this negative backlinking practice. It is illegal and your just kind of a loser dick for doing it. After all, it is honourable to lose on the battlefield to a greater foe. It is not honourable to bash them in the shin before you even compete…Tonya Hardening. Additionally, there is nothing wrong with ranking second, third …9th on the first page of Google you will still make money. If you are ranking lower than the first 2 pages, you have other issues at play and you are wasting time doing negative tactics because you will not rank anyway.
I will not discuss other negative SEO linking tatics I know of as I almost never see or read about them and do not wish to make the information public as they are highly distructive.
19) Make sure you measure your backlinking placement opportunity vs Investment
When building backlinks for your website, it is essential for you to check and consider the following:
⚫Is the backlink you are creating consistent with your brand? Is it from a quality source or will the customer be put off? For example, is the backlink for a fashion item on a respected fashion reviewers website or from a comment section of an adult website. There are many angles to backlinks and context is also one of them regardless of the domain quality or authority.

⚫Will it hurt or help your brands positioning in the market? Will your competitors refer to your backlinks as a source of your poor quality and character? For example, why would you buy from someone who advertises education products on porn sites?

Social networks are just that, networks of your peers. Are you posting content that will make your mother and friends cringe or will they like others think you are a social media wizard!
⚫Differentiating a good backlink building opportunity from a bad one is something that demands an enormous amount of research and innovation. Start by checking domain and page authority. The tools like SEOprofiler, Open Site Explorer, Ahrefs, serpworx, semrush and Majestic can give you a clear picture of the domain and page authority of the website from which you are planning to procure a backlink. Factor-in aspects like trust and citation flow to ensure the website is actually worth it when it comes to earning a link.
We have listed relevancy factor fundamentals which will also help you to determine a good opportunity, without the help of any tools,:
Is my content relevant to these
⚫The page you want to link from
⚫Domain topic and content to your page
⚫Page content to your page content
⚫Their Domain to your domain
Always look for these relevancy factors before you link. Being linked to off-topic sources is of little use and sometimes makes the link a becon for a penalty. While it can improve your Google rank slightly, it will not have anywhere near the effect as if you backlink from a relevant website with an audience. If you find this type of opportunity you are gold and should proceed. These rules don't change when using PBNs. A good PBN will be a thing all on its own and your link from it should make sense contexturally (In a perfect world). This is where PBN farms can let you down as the care factor drops when compared to when you have built it yourself. Those who take pride in their PBNs won't through any old link on them because they have spent real sweat and capital nurturing them.
20) Always identify the link types that are the most beneficial with respect to your business
Identifying a link type pertinent to your business can be an easy task, provided you have the time to invest in research. Shadowing your competitors is highly recommended especially finding what their backlink profile is. Tools like SEO profiler, aHrefs,backlink checker and Majestic Open Site Explorer etc will give you a detailed look into the backlinking profile of your competitors. Closely observe the types of links they have and the type of backlinks that have been more effective. Try to craft a backlink building strategy that mirrors these types of sources and of course 10x it. Additionally, tools like sitebulb can show a visual representation of the targets backlink profile. We like to also follow large websites and popular pages and mimic the way they grow. Jut keep in mind google use the top 5-15 websites as a reference for normal / ideal. Therefore, going to far outside those norms will rise rankbrain eye brows unless you provide a justification for it such as: social signals, viral, PR, traffic, PPC.
For example, if you are a restaurateur you can look at your competitor's profiles. You may observe backlinks from a review site which are highly effective. You would then take the strategy of also being on those review sites and concentrating your efforts to get more positive reviews than your competitors and having a better profile than them.
Similarly, you may actually find something completely non-intuitive, such as a lot of traffic coming from a local directory, hotel, forum or Instagram. Sometimes you just don't know. Often your competitors might not know either and you can capitalise big league.
21) Always build the easiest backlinks first
Build the easiest backlinks first. Backlinks are usually hard to procure and time-consuming. Trying to attain the toughest backlinks first just makes no sense. Therefore, start building the easiest backlinks first. The more links you get the better your site ranks due to authority and the easier it will be to obtain more. Additionally, you only need enough backlinks to rank on page one there is no other ranking before number 1 (except an argued position 0 where you appear even before paid links and the map pack). So once you have enough for a certain keyword that is enough and time to work on expanding on the breadth of keywords you rank for.
Jumping back to creating a good foundation, optimising your website with internal backlinks is an ideal first step. Interlinking your blog post to relevant pages on your main site and vice versa can help you to establish valuable navigation channels throughout the website via anchor text. Internal links can help you attain the following:
Efficient user navigation and fewer click steps from the home page ideally less than three
Establish information hierarchy / Silo
Uniform distribution of link juice with the website
Targeted link juice
Tag interlinks with meaningful and accurate anchor text for enhanced user experience. Also be mindful not to spam your pages with excessive interlinks no more than a total 100 links per page is acceptable with the bulk of your content being non-linked items. Most pages will support 1-3 follow links comfortably. There are exceptions to this rule such as this page 😉 The base rule we follow is one link per 1000 words. Then we test and measure the internal linking and page ranks from there.
22) Avoid using Subdomains and linking from them
If you have broken your site up into subdomains to gain some extra SEO juice, recently (2016) you may have found your sub domain sites have disappeared. If possible you may want to revert back to having everything under one domain. For example running different platforms out of a directory, such as a host/ or corporate/ instead of host.yourdomain.com or corporate.yourdomain.com.
Research from Rand Fishkin of MOZ (Fishkin, 2016) illustrates that having everything under one domain is better for SEO. It certainly helps build on MOZ's metric of DA and PA. We have also, noticed the same situation with once high ranking subdomains that have in the last year become invisible or only ranking in the most pathetic degree. Soon as we moved the subdomain website into a directory of the main domain it ranked within a week or two. Obviously it is feeding off the DA of the root domain, but why double your work load. The exception to this is when you may be running an app off a sub domain that you refer users to it. However, this is more about branding than ranking. I recently had a conversion with encrypted mail service protonmail about them changing the subdomain for their app and how would it affect their ranking. the verdict was it would not matter as the app on the sub.domain was not part of their ranking. The only thing they needed to be mind full of was redirecting to and from the subdomain. The last thing you want is redirecting in mass back to the home page upon exit messing up all the onpage user signals. Our recommendation is to have an exit page on your site which is nofolllow, noindex.
22) Piggybacking off links from other relevant existing websites
The easiest way to start building links is to try and procure them from your existing connections. For instance, if you are a distributor, you could offer your wholesalers an authorised reseller brand to add to their web pages. You can then provide a small script to add to their page which will link back to a branded image with anchor text backlink.
Another ease way to build links back to your website is by creating them on the websites you already own. Most savvy online marketers would own more than one website, if you are one of them, you can start creating relevant links back to your site. Ensure that you do not create links that do not fit the link building relevancy factors listed above.
While creating backlinks from your own websites, ensure that the anchor text used are natural and the end result is really useful for the users to reduce chances of high bounce rates. There is nothing wrong with a branded link or a naked link either. You don't need to have tunnel vision and exact match anchor text to rank for the exact match keyword. Google's Aisophistication is well past that game.
24) Use Youtube for branding optimising to build backlinks
Earn Traffic and sale via Youtube Ranking
[updated 22/June/2017]
Youtube is the second biggest search engine. Not many businesses would ignore ranking in BING, but many neglect Youtube. Making Videos is easy in relatity, but in thought most business owners and SEO artists consider it to be to much effort and then spend 12 months to get to page two for a page. Creating Youtube videos can provide easy rankings, quality in terms of Googles rank brain and provide powerful contextual backlinks, click through and most importantly more business.
If your brand has a YouTube presence, it is very important to ensure that the account profile is optimised with a backlink to your target website. Building backlinks from videos uploaded under the same profile is also an ideal strategy to establish a good backlinking profile. You can easily add a link back to your website, GMB Map, Page, Social pages by including it in your video description, even though the link will be a Nofollow, it can still help you bring in potential customers, providing the video content quality is good enough (always shoot for x10 better).
Additionally, make sure the youtube video is embedded on pages with matching the relevant content. Mass spamming your youtube embeds is not so effective and sometimes a negative due to the poor metrics Google will record against them.
Youtube or video is a very effective method for eCommerce store product pages, which are typically hard to provide backlinks to all the pages. Ideally, create a professional product video. However, a product image slideshow set to some music and containing some headings will be good enough short term. The idea is just have something up there as the quality bar is very low.
Don't use someone else's video or link from someone else's channel, such as suppliers. All you will be doing is helping them. However, encourage people who sell your product to use your videos. Ideally, make your own so it ranks unique to you. Duplication can have issues around copyright and simple duplication penalisation even though it is a video (Note: Google is pretty relaxed around this since youtube is its own product, but this could change so be prepared to loose out randomly). If you want to be sneaky create multiple channels and upload many many videos. We local to have 5-10 tops spots or more with our clients videos dominating them all.
The benefits of Youtube embeds on your website [Updated 09/March/2017]
What we find in general is Google will rank a website higher if they have their own youtube content on it. So if you are looking for a simple low-cost way to get ahead this is the one. We have seen success in local markets with el cheapo Fiverr type branded explainer videos, Spokesperson videos. However, we would recommend you spend a little more and either create your own or get something original. After all, if Youtube can detect copyright material it eventually will penalise you for a video similar to many others. There are online tools to make your own videos and resources for stock video which you could easily overlay some text and audio, without too many tears. We use Adobe CC Premier Pro to make videos however we don't recommend it.
Turning your page into video content [Updated 09/Feb/2018]
We have been experimenting with an online tool called Lumen5 which will turn a webpage into a video slide show. The video's are world class, but they rank pretty good. We imagine youtube is picking up the text within the video. The judgement call from us is the rank well and the video of this page is a testament to that, since it has consistently ranked top 10 for months and I'd be the first to admit it is not as engaging as Brian Deans video. So a nice little trick is to turn part of your blog posts into one of these videos and embed and rank it.
Ranking Youtube Videos For Direct Sales [Updated 22/June/2017]
This technique can be whitehat: however, it is a great blackhat technique with not a lot of risk for local businesses.
Have you ever searched for something and found a video ranking in number one SERPs position or page one?
Three Page One Position from my Youtube Ranking – This brings in about 3-5 enquires a month on average. Will I retire on it no, but combined with a couple hundred other rankings you have a busy business.
Part of the art of ranking, but getting traffic is to make your links appear attractive and keyword rich. You must admit the ranking links from youtube videos are pretty attractive! Well, how do you get these videos to rank. The technic is actually fairly simple. It was something I was doing back in early 2009 to 2012 and sort of forgot about. Recently I have been reading posts and watching videos from Holly Stark, which have sparked my interest again in this SERPS ranking trick. I am getting great results for local businesses, eCommerce products and How To type videos which lead to sales funnnels. [edit July 2018] Some nice breaking news there is now a local video pack
A Basic Method of Ranking Youtube Videos
Do keyword research and aim for lower competitive keywords at first
Step one create a video based around the topic or just a basic advert
Say or add text with your exact match keyword in it 1-3 times
Upload it to your Youtube Channel
(Just note if you go too crazy with the blackhat stuff you could loose your channel or get your web pages penalised)
Add the keyword/phrase to the title and first in the description
Write a nice long keyword laden description or use the transcript
Add five to seven LSI keywords
Publish the video
Now embed the video to your topic matching web page on your site
Now share the video via social media and ask friends to get click through and watch the video it often doesn't take a lot to rank them locally for low competitive terms that will pay.

Blackhat Addons By doing this these you will greatly increase the risk of being penalised by Google. You can also be penalised by Facebook and possibly have your facebook page banned, blocked or your website URL banned or blocked. So you have been warned.
Embed like crazy into many web2.0 websites, Relevance is key.
[edit this doesn't work so well now and not recommended]Buy views, shares, web2.0 embeds and social signals through horrible spammy services like Konker or Fivver
Encourage people to search and watch your video 😉 Don't use bots for this it doesn't seem to work based on the ones I used.
Ensure "people" who follow your channel watch the video
Just like Holly Starks and others say click through metrics and timing are key. The more genuine your content the less of an issue this is of course
Building a strong youtube channel is important and will trigger the video pack if that is your goal
Note: I did get a sad tale of an SEO noob who shared his video embedded into his web page hundreds of times through his facebook page and fake FB accounts and got his page banned. Facebook is a fickle platform with no recourse, I have been recommending clients use domains and lead pages as there listed website rather than their actual domain name when playing around with facebook. The reason is if you do get banned your domain will like not be touched and you can rebrand a new business page without to many tears. Yes it will suck loosing your followers, but having your domain removed from everything on Facebook is much worse. I have seen this happen to legitimate paid adverts too, from just to many negative flags so there are other reasons to do this too.
25) Sign up for business citations and quality relevant directories
Google prioritises business listing to such an extent that it is even included in the pertinent local search algorithm. Signing up with business directories is an easy task and the real takeaway is that most of these directories, get you a Dofollow link. (Note: We notice a lot of bigger directories are doing a bait and switch with these links. First doing a follow then switching when they get bigger. Often this was part of a covert link exchange where you have been ultimately duped. This practice especially sucks if you were paying for it.)
When you set out in the hunt for business directories, you are bound to encounter many. It is not advised to build links back to your site with just any directory that you come across. Take some time to skim through the directories and determine the quality of the existing websites within the directory. One way of checking the quality of the existing website is by determining the page and domain authority via your SEO monitoring tools. Start with the reputed directories like Google, Yahoo, Bing etc first.
Note: Many costly directories have Nofollow links and produce little for most industries unless your market is older or nostalgic.
Here is a list of the top 18 Australian directories
Here is our list of the Top 40 New Zealand Directories
Acknowledgement: NZ Citations supplied by our good friend Nick Manarangi in Auckland at Nick Manarangi Marketing
Here is a list of the top 50 for global website directories
Now, let's review the prep work to set up these listings and signing up with some of the major directories in the above list.
Before you start this process make sure you have the follow readily.
1) 2-3 Business listing titles
2) Submission email address
3) Business contact email address
4) Business phone number
5) Social media links
6) 2-3 unique business descriptions (Typically 160 characters, 250, 400 words max)
7) Several logo image sizes (150px,300px square and rectangular is good)
8) 5 branded and related images
9) Business ABN for Australian listings
10) Method of payment
11) Physical address
12) Mailing address
13) Keywords
It is very important to keep your address details exactly the same everywhere. We would also recommend creating a spreadsheet to keep track of who you are listed within case you need to go back and make changes.
Note: Keep passwords in a password manager progra, such as Lastpass.com, do not put them in plain txt files or spreadsheets for the love of DOGS!
Most important setup a Googles business/place directory listing
I gladly consider Google as the mother-of-all-search-engines and hence I strongly believe that the first directory that you need to sign up for should be Googles My Business directory. The task of signing up with Google business is really simple, follow the below given steps to accomplish this task.
Visit www.google.com/business and commence the sign-up process by clicking on the Start Now button.
The page that follows will present you a map along with a form, which requests business information like name, country, street address, business category, business phone etc. Fill in the form and click on the Continue button.
As the next step, Google will require you to confirm the listing. You can confirm the listing via phone or email. However, sometimes they require a postcard be sent with a code to confirm. You can choose one according to your convenience; I prefer telephonic confirmation as it is much faster than the email confirmation procedure.
Note: If you have a level 6+ Local Guides user account verifying can be as simple as confirming or getting a pin code from a phone call. Legend has it level 9+ accounts can simple request the listing.
Once your listing is confirmed, you will be redirected to the Google My Business page with a pop-up that asks whether you need personalized tips and recommendations, you can choose yes or no (it is better to choose no for the time being as getting your link up there is the primary priority) and then click on "Get Started".
My Business Page will load with the primary information that you submitted while signing up and you will have additional options to edit the information together with the option to add the website and other additional information.
Click on the "Add website" button and enter the website address into the popup the follow. Click Apply to get done with the process.
Google demands a moderation period of at least 24 hours+ to process your listing and acknowledge it. Once it is done, you will have a Google Business Listing for your business. We recommend creating the website and being active with posting. The posts can be ranked in Googles serps see wrap your mind around what interesting things could be done with that e.g. reviews!
Signing up with Yelp directory
Adding your business to Yelp directory is really easy. The first step is to check whether you are already listed on Yelp, visit https://biz.yelp.com/ and perform a search with your business name and location.
If your business is not listed in the directory, you will be redirected to a page with the option to add your business listing.
Clicking on the Add your business to Yelp brings you an online form which requests business information like Country, Business Name, Address, City, Email Address, Phone, Web Address etc.
Once you have filled out the form, click on the Add business button to receive a confirmation mail.
Click on the Confirm email address button embedded within the confirmation mail to confirm you listing.
Akin to Google, Yelp also demands some moderation time, as soon as your business listing is live on Yelp, you will get an email confirmation. If you can fight through Goole and Yelp you will be able to deal with the other listings without to much hassle.
26) Ask for niche specific guest post opportunities
Just like blogging on your own website guest posting is great for creating an online brand profile and further backlinks. The bonus is you are talking directly to a potential audience relevant to your business or website. Guest posts are an ideal strategy to foster authority throughout the web in addition to bringing in potential traffic to your website. The backlinks can be gold in the beginning; however, akin to all the other link building strategies, the use and abuse of this strategy placed it under the Googles watchful eye. So quality again is the name of the game. A guest post of a site with no traffic has little boosting value when compared to one that will funnel some traffic through to you even if it is not a lot.
Today, Googles search algorithm is designed to identify and penalise spammy guest posts. Therefore, it is essential to put in a bit of additional effort to find guest posting opportunities from websites that hold good page and domain authority. Ensure that you really do add value and don't half ass the opportunity, as it can lead to more opportunities. The most valuable information via your guest post can come from anchor text within your post. Also, make sure your guest post author profile contains a backlink. That way users who like you can follow you from your websites.
How do you find guest post opportunities? You can use specific search queries in Google to find guest posting opportunities. For instance, if your business revolves around fashion and you would like to find pertinent guest posting opportunity, you can use the following search queries.
>>Fashion + "guest post"
>>Fashion + "guest writer"
>>Fashion + "contribute to"
>Fashion + "write for us"

There are blogger outreach websites are also an option. Just be warned most are filed with PBNs using the service for free or to get content
27) Build backlinks from your social media profile/s
Building backlinks from social media profiles are one of the easiest and important link building strategies. After all social media sites are now basically the new major search engine, a source of traffic and a metric for ranking. However, you must create a business social media account to do it. (How to Setup Facebook, Twitter, LinkedIn and Google+ for SEO)
If you maintain a vibrant profile on social media, you are bound to get tonnes of followers. If your posting reflects nothing but quality, useful and new information you will generate plenty of click through and lots of what is called reach (when someone shares your post to their followers). Additionally, often users will view your social profile as a sort of police check to see how you operate.
All the great content you create and perhaps other sources of content you find you should share through your social media network. The extra click through from social will improve your website's authority and in turn rank. You will also improve your search results within the social media sites themselves. Many people now use Facebook and twitter etc as their primary search engine. The best type of social signal is the genuine one and as a company that manufactures them we can confirm it is certainly cheaper.
Encourage staff to create their own work social media profiles Staff are often the biggest and most invested people in your business. Encourage them to create profiles as an extension of customer outreach. Have them link from their profiles and perhaps even posts back to your business.
28) Building links from broken domains and links
Building links from expired domains and brokekn links is an old but effective SEO strategy still today. The advantage associated with this strategy is that it is difficult to manipulate. What we mean here is, another SEO practitioner will find it really hard to replicate your backlinks so you will have a permanent edge over your competition.
The ideal means to go about this type of link building strategy is to find expired domains relevant to your niche and redirect them to your website. You can either buy it directly from the owner or buy the domain from an expired domain clearing website. Then you just need to redirect the missing content in the backlinks to your relevant pages with 301 redirects. You can use this same strategy to find and create PBNs.
Another strategy of getting links back to your site is by finding broken links to other websites, mainly blog posts. There are several tools/plugins that can be used to identify niche specific broken links on third party websites, some of them are listed below:
Use these tools to find niche specific broken links and the next strategy would be to create an awesome piece of content relevant to the broken link. Once you have created the respective content, you can reach out to the webmaster via email and mention you found the missing link and that you can offer this suitable replacement. Yes, it does work because the webmaster with the broken link is in the same position as you. They don't want to be hurt for having a broken link but also don't want to loose the index for the page they have.
29) Post and engage in niche relevant forums, facebook groups and blog comment Sections for backlinks
Backlinks from forums and blog comments are really frowned upon. They mostly fall into the spammy category at best. If you overdo this, you may be penalised heavily by Google…maybe ;). Additionally, almost all forum and blog comment backlinks are tagged as NoFollow. However, if done correctly these backlinking strategies are still effective. The key is to appear to be genuine, slipping in buy from me all over the place is not going to work.
You need to have a few key things, a profile with some age and activity relevant to what you plan to post. The content you post needs to appear to be a genuine attempt to add to the conversion. It is a long-term strategy as creating trust worth profiles takes time on forums.
Putting it into action: If you are sharing valuable insight via a blog commens or forum posts, you have no reasons to be concerned about getting penalised by Google or any search engine. Blog comments are one of the better ways to interact with niche influencers, you can always find the top influencers in your niche, interact with them, exchange ideas and probably learn more from them. This is something that will open up the opportunity to procure a link or even a mention from the respective influencer, which can do wonders for your business. While commenting on a blog post, just focus on interaction with the author and forget the necessity of bringing visitors back to your site as that will come.
Taking this a step further you could create other accounts or involve staff in the process. I don't want to advocate deceitful activity. However, it has been used to get many a startup off the ground. The basic strategy being to highjack the comment section with your own conversation and steer it for your own means. Reddit since the Donald Trump saga has been constantly highjacked by fake or cloaked commenters trying to steer conversations away from something negative or planting/controlling positive spin. More recently the cryptocurrency ICO space has been flooded with this same activity, which goes from shilling, trolling, DOXXing to down right fraudulent manipulation at scale.
Similarly, establishing 'yourself' as a niche Guru works well in forum websites and facebook groups. You can find beginners or intermediate professionals with different kinds of doubts and concerns with respect to different niches in most forum websites. Find forums relevant to your niche by using the search tactics like your keyword + forum. Join create a profile and provide find the right answers for the queries belonging to your niche and contribute in such a way that your insight adds value. Do a lot of research and post valuable threads and do not hesitate to post threads and ask questions, provided you have done sufficient research. This is not only a good way to network and gets new clients in the trenches, but it allows for you to post a sneaky backlink when relevant. The more you can interact with that thread the better it will rank and the juice will follow.
Posting a link within your comment or forum thread/reply is not recommended unless and until it turns out to be an absolute necessity. Trying to win visitors via forum signatures is also not a good idea. The forum and the blog moderators will be keen to take down links which don't seem natural. Just stick with the profile links and if you are successful in adding value to your conversation, people, especially potential customers, will not hesitate to do some research and find your website perpetuating the cycle of content, click, rank, search.
[Updated 09/July/2018]
If it wasn't already obvious having social media accounts for your business and for the heads of that business is extremely important. While the backlinking value can be disputed the confirmation as a 'trusted' source seems to be apparant. We are finding it hard and hard to break through, especially locally without at least a Facebook page.
I would recommend setting up these social accounts as a bare minium for any business owner and for the business. You can and should also add these to your schema.
Facebook
Twitter
Instagram
Youtube
Linkedin
Pinterest
Soundcloud
Tumblr
Medium
reddit
gabi
30) Building backlinks via testimonials and reviews
Earning backlinks to your site via testimonials and reviews is a smart backlink building strategy. The first step is to get a list of products or services you have purchased in the past. For instance, if you own a beauty salon and if you have purchased any of the cosmetic products via Amazon, leaving a professional opinion about the product and comparing the same with its counterparts and outlining the pros and cons is a brilliant way of marking your professionalism and bringing back people to your website and eventually encourage walk-ins.
Gifting testimonials to webmasters from whom you have purchased a product or service is another tactic to earn a backlink and most probably from the homepage of the respective website. If you have hired a web development company in the past, performing a background check on their profile and sending a testimonial that highlights their unique selling points or how efficient they were in listening and satisfying to your requirements is something that the webmasters will find too good to resist.
It is all about quid pro quo, perhaps you suggest someone does a white paper, review or case study on your business …along with said causal backlink! A lot of people who generate content struggle for ideas and giving them any easy one often means they will take it.
Strategically places reviews on local citation websites [Updated 22/June/2017]
If you look at any well ranked popular businesses their Google My Busness listing will have reviews from other high ranking sources in the SERPs view. Google calculates these reviews in its algorithm, especially for local and voice searches. You will be extremely downgraded if you have a high ratio of negative reviews to positive ones. Having a negative review is not as bad as it was. In fact an excessive amount of positive reviews produces diminishing results, without an interruption with a negative review. It would seem Google added common sense to its algorithm which used to kill your rank if you had but one negative review.
Where possible direct your review funnels to the different citation sources you see on competitors listings in order to out review them on each. What you need is at least 5+ reviews on each source and a preference for most reviews going to Google. To outrank your competitors you want to have at least 5-10 more reviews than they have on each of the citations a high number of quality reviews from quality reviewers. Then direct reviews to the next source and repeat the cycle trying to keep them regular. If you do have an abundance of reviews just keep spreading them around as it does help to protect against the inevitable few negative reviews.
[Updated 09/July/2018]
This is something new we picked up on – Reviews from Google local guide reviewers count for more. Additionally, the length and details of the review count. For example reviews over 200 words, images, video that have a keyword that come from a local guide with a high level have more weight than an effectively annouymous review. Now before you go spam the hell out your accounts with fake local guide reviews there is more to it than just this. Having users interact with the review also carries a weighting. All this combined with other factors will enfluence the map pack listing far more than custom mymaps currently will.
In Australia, the best places to direct your reviews are; Google my Business, YellowPages, Truelocal and Facebook. All will positively and negatively affect your rankings. I'll note I normally recommend clients turn off the Facebook review feature even though it can be a very easy place to collect reviews. The reason is Facebooks appeal process is extremely slow and generally useless. If you combine this with an extremely easy method of posting negative reviews on Facebook it can be a major issue. Before you discount this because all your customers are happy and you do a great job, just remember negative reviews aren't always honest. One urgent reputation management job we had was a business who had a stellar 200+ FB reviews, then one morning they woke to find 500 negative reviews. The appeal process took forever even with evidence. The whole time the clients business had completely disappeared from Googles search results, as it was their only source of reviews.
Note: Reviews left on your profile really need a reply to count.
31) Earn backlinks by submitting to blogs and RSS directories
If you create content 10X better than your competitors, then submitting it to blog directories in addition to promoting them on social media will help you increase your conversion rates. In turn your backlink profile and ranking. The rule of thumb is to stick with the reputed and relevant blog directories if you wish to keep yourself away from the spammers; you can sign up with some paid directories. Most paid directories are free of spammers, choose a couple of directories which seem really relevant to your niche.
You can also create content on sites like medium.com, which is a mini blogging platform social media site. If you create a following you can boost your backlink profile and direct click through.
Submitting to RSS directories is another innovative means to bringing in a large volume of traffic to your website. You can start by submitting to some of these reputed RSS directories:
32) Earn backlinks to your website using infographics
Infographics are really an extension of image backlinking. However, they are more relevant as they convey more content, which means they should get shared more on social media and visited more on your site.
So when the information you want to convey is not too in-depth, infographics are a better means to present to readers. After all, an image can say a thousand words? As a matter of fact, infographics can impart information much more quickly and efficiently than a written piece of content. Consider these factors while creating infographics:
Is the topic selected, the latest one?
Does the topic require a really in-depth exploration and presentation? (If yes, creating infographics may not turn out to be a potential solution as you may end up confusing the readers or find it really difficult to incorporate a great volume of content).
Does the infographic present a strong call to action?
Have you done detailed research on the topic
Most infographics mirror statistics, double check through research to figure out the statics are correct. Quality is key!
Ensure your infographic is formatted as JPEG and format the dimensions to work for the platform you will post to. For example, Facebook, Instagram and Twitter all use different sizing. What will look great on Facebook may look rubbish on Instagram.
There are lots of cool tools for creating infographics so you don't need to be a top graphic artist. Canva is great and currently our favourite after adobe's CC suite.
Once you have created an infographic that presents 10x valuable information effectively. The next step is to submit it and get it shared. Obviously, post it to your own site and share it through social media. Additionally, there are specific infographic-friendly sites which we have listed sites.
Visual.ly
Slideshare.com
infographicdatabase.com
best-infographics.com
business2community.com
amazinginfographics.com
coolinfographics.com
designyoutrust.com
good.is
infographicjournal.com
33) Link building by email outreach
Trying to build links via email, social media or even old school phone outreach is an effective strategy, provided you are contacting the right webmasters with the relevant website and with the right piece of compelling content. Relevance is key here.
For instance, you can send a backlink request email, by pointing out some suggestions to improve the website of your target webmaster, foster a good relationship with them by sharing your suggestions to improve his blog or other insights on the site and earn yourself a position, from there you could ask for a link back to your site, guest post or collaboration.
34) Conduct interviews for content and link sharing of the content
Interviewing the professionals in your niche is a great strategy to get some backlinks with high PR in addition to extra social media credibility. When you interview a professional in your niche and post the interview on your blog, he/she will link to the same from their website and/or social media channels. The website of the so-called influence from which you get a link is bound to be a high traffic and authority website.
In addition to earning a link, you also stand a good chance of earning some additional shares on social media. You might need little or no convincing for the influencer to share the respective interview blog to his/her audience.
This can also be done as a paid interview and it can be well worth it. Just choose your expert wisely they are not all equal. The best times to approach them are when they are looking to promote one of their own offerings.
35) Create link bait posts for high volume sharing and authority earning
Creating a link bait posts or blog is one of the better ways to earn backlinks with authority. While easier said than done there is a process which can be broken down into several steps.
Finding an intriguing or trending topic
Writing 10x better content than the content already present on the web regarding the topic
Optimising the headline and images for different social media platforms
Identifying the right hashtags and mentions to post with your topic
Getting a list of influencers to reach out for procuring more shares and backlinks
Finding relevant communities within the social media platforms to circulate the topic
Perhaps spending some advertising money to share your post of social media
Joining or paying to be part of a co-promotion collective for blogs/content, like copromote.
The task of finding an intriguing topic can be achieved in different ways:
One way of finding a high potential topic is by shadowing the blogs or social media profiles of your most successful niche stars. Figure out what they are working on and how they are presenting it and try to establish an awesome piece of content that beats their content from all perspectives such as this 2018 backlinking guide. The 10x method.
Another means to find an interesting topic is to follow the social media profiles of top officials, brands or accepted influencer. For instance, if you are a sports shoe retailer specialising in limited Nike Jordans and other cool shoes, you can visit the Nike home website, social media profiles and join exclusive mailing newsletter lists to learn about the most recently offerings and news. You can then break this news and expand on it to your audience faster and better than others. Often who breaks the news first wins.
My favourites are Google trends, Twitter hashtag trends and Facebook trends. These sites present and track what is trending on their platforms. If you can predict a trend you can capitalise by righting matching content. 2016 we predicted heavily on Donald Trump and got huge gains from it.
Lastly, using tools like Buzzsumo gives you an idea of the most shared content on the web with respect to keyword topics. Being able to measure the predicted potential audience can save a lot of tears when you spend hours writing something to get 2 people read it. If you research a topic and the max shares it has ever attracted is under 10, you know not to spend 2 weeks on it. However, if the share value is potentially epic and current you know to put the special sauce on it. I don't want to discourage you either, it is possible nothing share-worthy has been created on the topic.
36) How to Create Google Stacks and do they work
[Added 22/June/2017] This seems more of a sales pitch at the moment, but the idea is you can create Google based docs, slideshows, images, website, Map listings in a public Google Drive folder and backlink them to your target website or page using anchor text or naked links. They are supposed to be powerful because you are using the Google domain.
We are still testing this currently, the results so far are mixed, but we haven't found any negative effects thus far. The logic is somewhat correct however Google is way ahead of the game so I don't believe it to be the massive loophole it's being sold as.
[Updated 09/July/2018]
We have been testing the mymaps stacking methods of our own and many other providers which we have bought. To date this method has not produced any results lasting more than a week. While I won't call the method busted yet, it is all but busted. If you have an effective method we would love to here from you and test it and if it produces an effective result we will make it known and if it doesn't we won't disclose you.
How To Make A Google Stack
1) You'll need a Google Account, don't use anything important.
2) Create a Google Drive Folder and Share it publically.
3) Now create 1-5 Maps, One Document, One Spreadsheet, One Google Website, One Image, one PDF. The secret sauce was said to be sharing these through social media, backlink and send traffic then embedding them in web2.0s
All using one keyword only and link to your target site.
My suggestion is to spend time on these and make them good if it is to be directed and ranked towards your brand.
Now share, link, embed your docs.
It is fairly simple to execute and likely the more genuine the better if it does work. Comment or email me if you have any concrete data on Google Stacking.
37) Ranking PDFs
I haven't used this for a long while, but it should still work. The idea is to publish your content in .pdf format. In its basic whitehat SEO form you can just provide a link to the pdf off a topic related page in its notorious format you could be spamming it everywhere from torrents to forums.
Techniques of ranking pdfs
1) The title should be H1 heading and start with your keyword
2) The first paragaph will get picked up as the description normally
3) Share away
4) Backlink
Back in the day, I used this to out rank a couple big financial institutions for loans to great effect.
38) Charity / Donation Backlinks
The concept here is very simple you make a donation to a worthy site and in return, they give you a link back to your target site and maybe some naming rights, such as this site http://www.seopanel.in/donate, an Australian one is AWIA or the Retired SEO workers gild ;). For this to work you want a website with a strong domain authority upwards of 40-50+. Also, you want to see that they rank. You don't want to be parting with money for a link that will drag you back down. Setup is pretty straightforward.
The hard part is finding the buggers. Some good Google search terms to find them are;

'donation list + contributors'

*'contributors page + donate.

Happy donating
39) Using the Magic of Quora
I did this for a while, but found it to much work in comparsion to other things we do. However, there is some real merit to it and it could be easily passed on to a VIA to do. What you will end up with is a profile page with some authority within the site (little ranking value sadly). An audience of potential customers. One of the easier ways to manager your effort is to only reply to questions you have content for and then post an excerpt with a link to your content or the whole content piece plus a naked link and hope for some exploration. The link value compared to something like a PBN is low, but the traffic is real and you can generate some high traffic numbers. What you have to watch for is you are getting the ROI on your time. Overall I would recommend anyone with a product with mass appeal to investigate it. For a small or localised business there are better things you could do.
40) Reddit and other forum tricks
One day I'll give this up. I'm not quite ready yet.
Summary
That was epic, I am exhausted! Now you know the best possible means to manually create backlinks for your website in 2017 (Note: look to understand the manual process of backlinking and then look to automating and outsourcing as much as possible. The strategy takes brains the execution not so much). The trick of the trade is to be creative in addition to investing lots of time and effort. Remember to have patience and do not be discouraged by failures. A backlink building strategy like email outreach can be a real patience tester. The secret to success here is Sweat + Creativity. Always focus on high-quality backlinks from a reputable website as they can do the job of 1000 low-quality backlinks. If you need any assistance or want to hire us for your SEO just leave a comment or send an email.
Download a this blog as a document here
41) Amazon Author Links
While i'd be one of the first to question the strength of having an Amazon author link, it does however offer plenty of value as a reputation management option to push unwanted links back.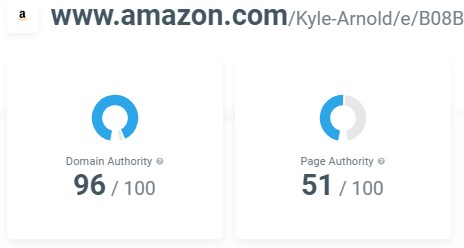 Amazon Backlink Moz metric stats DA (Domain Authority) / PA (Page Authority)
However in the context of backlinking the metrics of the root domain of an Amazon author link suggest a net positive could be seen from creating such a link (Arnold, 2020). Additionally, it may provide a useful link tier to pile up more suspect quality links behind to pass more juice to your money page. This reduces your target sites risk of penalty.
Bibliography:
Mebsites.com. (2016, 30 Jul ) Correlation between conversion rates user generated reviews [webblog] Retrieved 7 March 2017, from http://mebsites.com/blog/correlation-between-conversion-rates/
Mozcom. (2017, no-date). Technical Site Audit Checklist: 2015 Edition . [Weblog]. Retrieved 17 January 2017, from https://moz.com/blog/technical-site-audit-for-2015
Fishkin, R. (2016, August 02). Subdomains vs. Subfolders, Rel Canonical vs. 301, and How to Structure Links for SEO – Whiteboard Friday. Retrieved June 21, 2017, from https://moz.com/blog/subdomains-vs-subfolders-rel-canonical-vs-301-how-to-structure-links-optimally-for-seo-whiteboard-friday
Yourseosquadcom. (2016, 16 December 2016). How to Create Backlinks Manually – Free White Hat Link Building Tutorial. [Weblog]. Retrieved 17 January 2017, from http://yourseosquad.com/create-backlinks-manually/
Backlinkocom. (2013, 21 October 2013). How to Get High Quality Backlinks (Without Guest Posting). [Weblog]. Retrieved 17 January 2017, from http://backlinko.com/high-quality-backlinks
Gotchseocom. (2017, no-date). How to Build Backlinks in 2017 (NEW Guide). [Weblog]. Retrieved 17 January 2017, from https://www.gotchseo.com/backlinks/
Shari , T.H.U.R.O.W. (, July 18). The Fundamental Checklist For Website Navigation Design Architecture Part 1. [Weblog]. Retrieved 17 January 2017, from http://marketingland.com/fundamental-checklist-website-navigation-design-architecture-part-1-90743
Northcuttcom. (2017, no-date). Site Architecture Checklist: The 51-Step Audit | Northcutt. [Weblog]. Retrieved 17 January 2017, from https://northcutt.com/wr/website-architecture-seo-audit-checklist/
Beginners to Advanced Guide to Building a PBN. (2016, October 28). Retrieved February 11, 2017, from http://lionzeal.com/pbn-guide/
Linksmanagementcom. (2015, 18 May 2015). Types of Backlinks – LinksManagement. [Weblog]. Retrieved 17 January 2017, from https://www.linksmanagement.com/types-backlinks/
Cory collins. (2017, no-date). Determining Relevance in Link Building. [Weblog]. Retrieved 17 January 2017, from http://www.pageonepower.com/linkarati/relevance-in-link-building
Searchenginewatchcom. (2017, no-date). Matt Cutt's view on how Google evaluates paid links. [Weblog]. Retrieved 17 January 2017, from https://searchenginewatch.com/sew/news/2332787/matt-cutts-shares-4-ways-google-evaluates-paid-links
Mozcom. (2017, no-date). Overview on internal links. [Weblog]. Retrieved 17 January 2017, from https://moz.com/learn/seo/internal-link
Quicksproutcom. (2017, no-date). A Step by Step Guide to Modern Broken Link Building. [Weblog]. Retrieved 17 January 2017, from https://www.quicksprout.com/2015/08/19/a-step-by-step-guide-to-modern-broken-link-building
Krista, B.U.N.S.K.O.E.K. . (, ). Blog Traffic: How to Use Q&A Sites and Niche Forums to Increase Blog Visitors. [Weblog]. Retrieved 17 January 2017, from http://blog.wishpond.com/post/65245501112/blog-traffic-how-to-use-q-a-sites-and-niche
Shoutmeloudcom. (2015, 21 August 2015). 101 Ways to Get Quality Backlinks To Your Blog. [Weblog]. Retrieved 17 January 2017, from https://www.shoutmeloud.com/101-ways-to-get-quality-backlinks-to-your-blog.html
D. (2017, March 08). Why penalties are great. Retrieved February 10, 2017, from http://www.darylrosser.com/blog/why-penalties-are-great/
Masternewmediaorg. (2017, no-date). Best blog directories. [Weblog]. Retrieved 17 January 2017, from http://web-marketing.masternewmedia.org/rsstop55-best-blog-directory-and-rss-submission-sites/
Infographicdatabasecom. (2017, no-date). TOP 70 Infographic Submission Sites List 2017 (January) – Infographic Database. [Weblog]. Retrieved 17 January 2017, from https://infographicdatabase.com/list-of-infographic-submission-websites/
Quicksproutcom. (2017, no-date). The Link Builders Guide to Email Outreach. [Weblog]. Retrieved 17 January 2017, from https://www.quicksprout.com/2012/12/07/the-link-builders-guide-to-email-outreach/
Eric vreeland. (2017, no-date). The Ultimate List: 50 Online Local Business Directories. [Weblog]. Retrieved 17 January 2017, from https://blog.hubspot.com/blog/tabid/6307/bid/10322/the-ultimate-list-50-local-business-directories.aspx
The Ultimate Guide to Guest Blogging. (n.d.). Retrieved from https://blog.kissmetrics.com/guide-to-guest-blogging/
How to Rank In Google Images in 5 Steps. (n.d.). Retrieved June 21, 2017, from http://diggitymarketing.com/how-to-rank-in-google-images-in-5-steps/
How to Build Authority with Donation Links. (n.d.). Retrieved June 22, 2017, from https://www.quicksprout.com/university/how-to-build-authority-with-donation-links/
Arnold, K., 2020. Get A Do-Follow Backlink From Amazon | Become An Amazon Author. [online] Hyperweb. Available at: href="https://hyperweb.co.nz/do-follow-backlink-from-amazon [Accessed 3 July 2020].